It's August and Lots of Food has been very busy planting!  Here are updates from some of our gardens this month!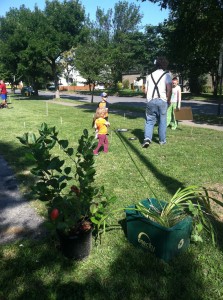 We just finished up the first garden work party at the Flying Squirrel Community Space on Friday the 16th! We had 14 volunteers including members of the Clarissa St. neighborhood and their children.  The kids did a lot of the work!  At the end of the day we had 5 trees, a row of raspberries, day lillies and an aronia bush in the ground. We also layed the groundwork for 8 future garden beds that we'll put in on the 29th with the Wilson Day volunteers.
Things are moving right along at the Peters/Duskin site!  We're making the final adjustments to the garden design, and volunteers have begun putting cardboard down in anticipation of a delivery of mulch which we're expecting any day now.
At the Small World site on Canal St. we've gotten some great feedback from our design charette and are poised to move forward as soon as all of the logistics are worked out!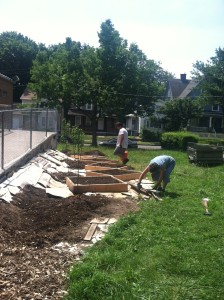 Over at the Montgomery Neighborhood Center we've had a hotbed of activity with everything from rabbit-proofing trees to installing small frames for winter to planting swiss chard, comfrey, garlic, and onions.  We're ready for mulch and very much looking forward to the arrival of the Wilson Day volunteers on August 29th!
The site at the First Universalist Church has seen concrete removed from portions of the garden and a very successful Mulch Party on August 9th.  A work party with First Universalist Garden Team is planned for August 20th.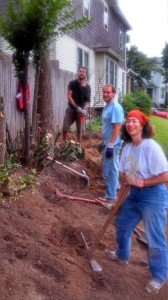 The Asian Pear trees are in over at the Little Flower site on Melville St., and the space as a whole is nearly ready for planting thanks to a very productive volunteer day this past Wednesday, Getting lots of positive comments and support from the neighbors, by the way. =)  We have some exciting design ideas in store for this site and are looking forward to future progress with great anticipation!  
We're feeling energized, and hope you'll continue to join us in helping Rochester realize its potential as the (Edible) Flower City!