We have quite a bit to update you on with our latest blog entry!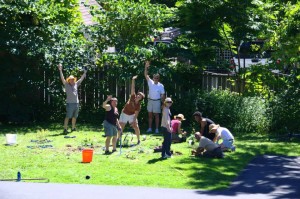 We're moving forward at the Episcopal Diocese. As always the garden is one of life's great teachers and we are eager to learn from it. While this garden is flourishing, we're continuing to make little adjustments and fine tunings here and there in order to make it an ever more bountiful space. Our next step will be to add benches and arbors to the garden. How exciting!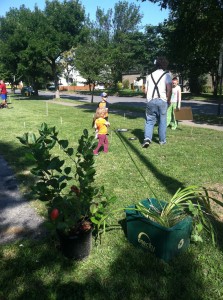 At the Flying Squirrel, we're sheet mulching around the outer beds of the garden and keeping the center spaces clear for grassy (clover-ie) gathering spaces. We've moved most of the mulch away to other spaces, but have about one more load left. (if you'd like to lend a hand, we always welcome more volunteers!). We also planted a few last minute items last week- horseradish, a replacement bee balm and rosemary. What a difference in the landscape this garden has made!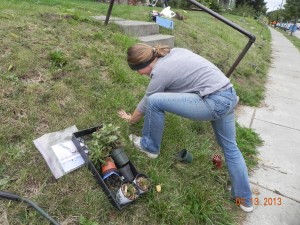 At our PLEX site, we're happy to say that the garden is all in (with the exception of a few items that we'll be planting in the spring). All that's left now is a bit more mulch around some of the plants and installing a sign.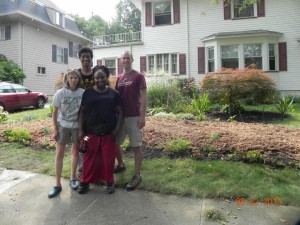 Over at the Peters/Duskin site Kathy has finished the mulching and is happy with her transformed yard. Would love some more feedback on this garden from neighbors! Kathy is looking forward to bountiful sharing down the road. Let us know what you think!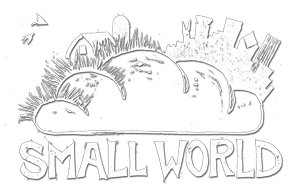 The Small World Bakery garden awaits final approval before we're able to begin designing the gardens. We may still be able to squeeze in a few "lasagna beds" before winter. (Keep an eye out for a call for volunteers!) Otherwise, we'll look forward to the spring planting.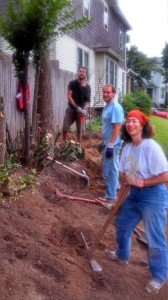 We're continuing to spread the word about the garden and Lots of Food in general at the Little Flower site. The feedback continues to be positive and energizing! A few remaining plants (oregano, anise hyssop, walking onions) will be going in any day now! Additional mushroom logs will also be added following a mushroom cultivation workshop which was held here on Sunday, Oct. 6th. Get in touch if you'd like to lend a hand.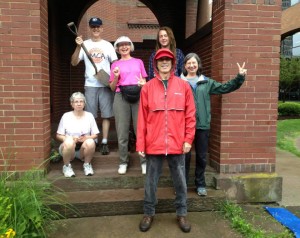 First Universalist Church of Rochester Garden Alcove- Construction is complete! Strawberries and chives are planted as ground cover. We'll be meeting with the Garden Committee/ Lot Steward on October 30th to move forward with plant selections. The Church is interested in purchasing some large planters that can serve as memorial "urns" which would also be planted with edibles. Such a pleasure to be a part of helping this garden take shape!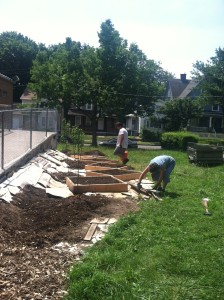 Given the size of the Montgomery Neighborhood garden and our desire to begin portions of design and construction, we have divided our focus into workable sections. Three areas have been constructed with plantings. Lot Steward Winzell Beckett is working on the remaining garden design with continued plant selection and final design to be completed mid-winter. Lori Staubitz is visiting each week to check in with our "Garden Guardians"- folks who care for the garden who are also employed by Southwest Area Neighborhoods (SWAN). Plans for a Thursday afternoon LOF after-school Gardening program for children is underway. Program Director Viola Curry from SWAN/Montgomery will partner with Rev. Staubitz to facilitate. Our First outreach effort was scheduled on Thursday October 3,2013 from 4:00-7:00pm.  We made applesauce with the children and talked about future plans including the following:
1) Making Teas
2) Indoor Herbal Tea Garden
3) Hidden Worlds- Exploring who lives in the soil/ Good Bugs
4) Making Garden markers for plants
5) Garden Guardian tee shirt or apron designs
6) Our Lots of Food Garden Book
Sounds like a lot of fun, doesn't it? At this time, funding for the Children's Outreach program is supported by private donations of time, talent and resources. If you would like to get involved, please send us an email.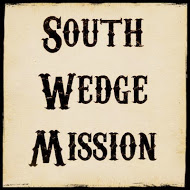 Over at the South Wedge Mission, Pastor Matthew has asked for LoF attendance at a Q & A with the congregation. We're feeling thankful for the opportunity to further spread the word about the mission behind Lots of Food. Our hope is to get some woodies planted here this year and we're awaiting formal acceptance of the Little Free Library which we believe would make a great addition to this garden!.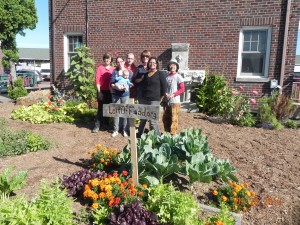 At the Rochester Public Market Garden last week, with the help of Joe's family, Little Flower Community guests, and Vic, we finally finished weeding and mulching the annual garden. (check out our Facebook page for photos!) We also received approval for placing a Little Free Library there. Yay! The plan is to have it painted and installed this year. If you have artistic talents you'd like to share, get in touch!
Wow! So much productivity and positive energy! Thanks so much to all of you for your support and contributions. You are what is making Lots of Food the success that it is and that we hope it will continue to be.