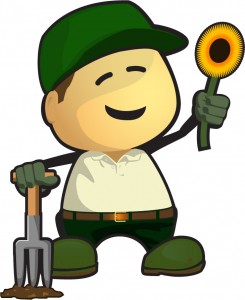 Hi, Folks. It indeed takes a village, or in this case, a city. We are ready to dig in and start planting so we need you to let us know when you can help us get our gardens in or if you can help us in some other ways like with signage and with some items we are in need of:
Please RSVP if you can join us. We have garden planting parties scheduled:
Friday, 8/16 9 am – 3 pm at The Flying Squirrel Community Space on Clarissa Street
Thursday, 8/22 8 am -2 pm at the Lynch-Bradford residence on Seneca Parkway
Friday, 8/23 1:30 – 4:30 pm at The Episcopal Diocese on East Main Street
Wednesday, 8/28 4-6 pm at The Episcopal Diocese on East Main Street
Thursday, 8/29 10-3 at various sites with our Wilson Day volunteers
…With more to come soon, you can check out our calendar at: http://lotsoffood.org/events/2013-08/
Items we are in need of:
Wood chip mulch, preferably delivered to one of our sites – please email me for more information
Frozen juice can lids – 400 needed by 8/28
Metal hangers – 200 needed by 8/28
Wire – similar to that from Chinese food takeout containers – 100 needed by 8/28
Metal Fencing and stakes – for protecting some of our babies (small trees like pawpaws)
Calendula plants – does anyone have 6 to spare?
Please consider joining us as an occasional or steady volunteer in our gardens and/or in our various working groups.
Right now our biggest needs are helping hands, materials, and signage.
If you can pick up mulch for us from a list of locations we have, please call or email me.
Here are some working groups that could use some more helpers: http://lotsoffood.org/about/working-groups-and-functions/
For more information:
Contact info@lotsoffood.org
Visit www.lotsoffood.org
See our calendar at http://lotsoffood.org/events/
Visit https://www.facebook.com/#!/lotsoffoodrochester
Call 585.506.6505
<3 Mary