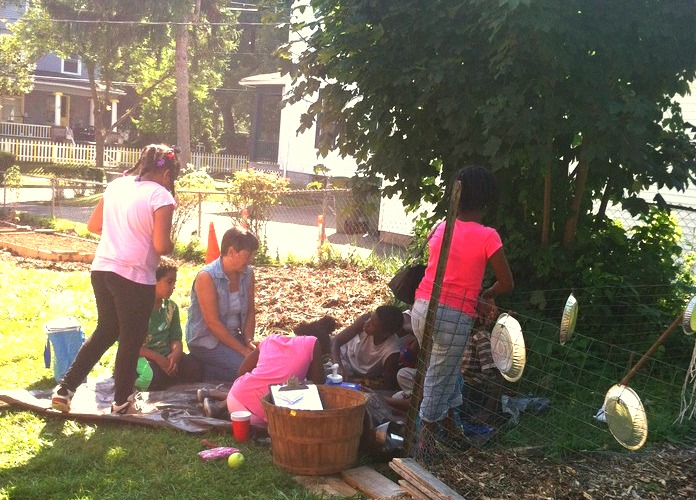 Twice a month, LOF volunteer Rev. Lori Staubitz and Director of Senior Programs at Montgomery Neighborhood Center Ms. Viola Curry join together to create a fun filled experience for 15 neighborhood children. Our goals are to uplift the mind, body and spirit of each child so they in turn might do the same for others. The stories shared are interactive as they weave activities  with value based messages; Every game models cooperation and community building and simple recipes coupled with nutritious foods help provide the children with the experience of preparing and eating in healthy ways.
Monthly Update and Future Plans:  
October start-up
What better way to bring folks together than to share something warm and wonderful to eat!  In October we launched our first efforts by making applesauce and carving pumpkins.  In November we went on to act out the story of "Stone Soup" as we identified seven different vegetables that were cut, prepared and mixed together with "the stone" for a delicious and nutritious afterschool snack!
November
Ms. Viola Curry prepared a special thanksgiving meal for the children and helped teach the etiquette of table setting and manners that she had learned as a child. Afterward, Rev. Lori Staubitz shared her story "Joshua's Stars" and invited the children to count their blessings too as each child received 20 small stones in a gift box to help remind them of the story.
Ms. Betty continues to support all efforts with her volunteer time helping with the cleaning and cooking. Special thanks to these two dedicated seniors for there on going efforts to help make this program a success!
December
This December we will prepare treats for the birds and squirrels that frequent our garden as we tell Eve Buntings story :The Night Tree" and decorate a living tree in our garden. Children will receive a special book they can later use to participate in the area Little Free Libraries that are located at here at Montgomery and at the neighboring garden at the Flying Squirrel.
January
In January we plan to sew/decorate personal  aprons; make baked stuffed potatoes, chili pie and help the children create their own recipe boxes so they can bring their new found skill home to share.
February
February we will turn our attention to the garden as we make explore herbal teas, start seedlings and learn more about how to garden before the ground is thawed!